---
---
---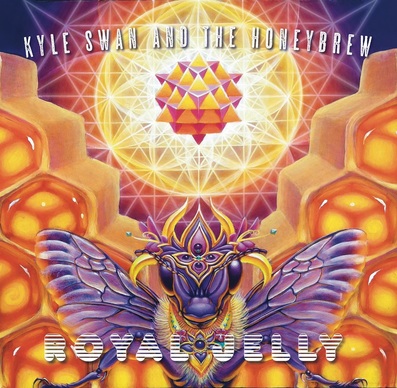 Feb 2016: NEW "KYLE SWAN AND THE HONEYBREW" RECORD: 'ROYAL JELLY'

The upcoming release with performances from Robben Ford, Karl Hunter, Jacob Scesney, members of 'the Nobe Horns' horn section of the band "Noble Creatures", a slew of backing vocalists and analog digitry... Produced by Matt Sewell who also plays bass on some of the record, It is more heavy than the recent jazz/pop/blues aspects of "the Honeybrew's" last release 'Propolis'. 'Royal Jelly' is more arranged, more aggressive, and more thought out than the former, with some of the psychedelic nuance of Swan's previous 'Gossamer' record, woven into it.
'Royal Jelly' is now finished, and set for digital release sometime mid-February on Itunes and CDbaby.

---
Album cover art by Erik Seyster 'Vajra' at www.altaroftheheart.com
"Swan's music is a school within itself; the product of a musical think-tank who's fruits are accepted by the most sophisticated tastes to the most basic of thinkers." -JACOB SCESNEY
(played with Kool n the Gang, Christian Scott, Verdine White, Casey Abrams, Winner of the 2013 Warren Hill Sax Expo Rising Star Competition)
---
"KYLE SWAN and the HONEYBREW" new 10 song record: 'PROPOLIS' released April 2015

REVIEW FROM THE VC REPORTER

PROPOLIS

"No slouch when it comes to new aspects of making music, Kyle Swan's latest record, Propolis, with his band the Honeybrew, was produced by Ojai guitarist Bernie Larsen (who's played alongside everyone from Melissa Etheridge to Jackson Browne). The record is Swan's latest exploration of the musical texture he calls "a live jazz-grit feel." With appearances by the likes of Robben Ford, Big Bad Voodoo Daddy saxophonist Karl Hunter, Wallflowers percussionist Mario Calire and David Crosby's bassist Kevin McCormick, it's the follow-up to last year's Gossamer album, and the first of two proposed albums chronicling the unfolding of the wild lotus that is the life of the Honeybrew. He also made an appearance on Ford's latest album, Into the Sun, a smash hit on the blues charts that includes Ford's cover of Swan's song "Same Train." One of the things they don't tell you about the blues is that it has texture as much as it has hues, and Swan knows this instinctively, teasing out all the colors of the dark on Propolis with a grace and a certain touch that is a wonder to be held."

— David Cotner
VC Reporter


---

http://www.vcreporter.com/cms/story/detail/?id=13220

Recorded and Produced by BERNIE LARSEN at Spinout Studios 2015
Mastered by GREG TOWNLEY

"Kyle Swan and The Honeybrew" : 'Propolis', is a modern Jazz inspired record that swings from traditional to cosmic jazz/dub. The trio's only release on the Spinout Records label,

'Artists included on this album:

Kyle Swan - (vocals/rhodes/guitar/songwriter)
Robben Ford - (Joni Mitchell / Miles Davis / George Harrison)
Karl Hunter - (saxophonist for Big Bad Voodoo Daddy)
Mario Calire - (drummer for Ozomatli/Wallflowers),
Kevin McCormick - (bassist/producer for Brett Dennen / Melissa Etheridge / David Crosby / Graham Nash and many others)
Bernie Larsen (David Lindley / Lucinda Williams / Ry Cooder / Jackson Browne / Ricky Lee Jones).
Scott Belsha - drums
Scott Hughes - bass
"The Noble Horns"- members of the band 'Noble Creatures' - (Evan Mackey-trombone, Ruben Salinas-tenor/baritone sax)

Album Cover art: Amber Bassett
Produced by Bernie Larsen. All songs written/copyright Kyle Swan 2015 (except track 4 "you look like rain' a cover written by the band "Morphine")

"Although he's my friend, he is one of the more genuinely soulful singer songwriters I have heard in a while. After that, we can talk about his piano playing.. Real deal.
-BERNIE LARSEN (Owner of SPINOUT RECORDS, performed with DAVID LINDLEY as an original member of "EL RAYO X", MELISSA ETHERIDGE, JACKSON BROWNE, BONNIE RAITT, RICKY LEE JONES, LUCINDA WILLIAMS, and PUBLIC ENEMY.)

---

Kyle Swan: cowriter/performer on Robben Ford's 2015 'Into the Sun' record.

hitting number 2 on the blues charts within its first week of release, 'Into the Sun' features guests like- Keb Mo, Warren Haynes, ZZ Ward, Sonny Landreth, and Kyle Swan performed harmonica and co-wrote a few songs for the record with Ford, and who wrote the song "Same Train", which Robben covered on the new record also.



---

"Kyle Swan is a very talented, very creative musician, who avoids the obvious and is always looking for something new. He has what I most admire about any artist, which is a voice of his own."
-ROBBEN FORD (6-TIME GRAMMY NOMINEE, and rated as one of "100 GREATEST GUITARISTS OF THE 20TH CENTURY" by MUSICIAN MAGAZINE, performed with MILES DAVIS, JONI MITCHELL, GEORGE HARRISON, PHIL LESH, BOB DYLAN, JOHN MAYAL, GREGG ALLMAN, JOHN SCOFIELD, and many others)


---

---

New, 12-song Kyle Swan solo record: 'GOSSAMER' released Oct 1, 2014

REVIIEW FROM THE VC REPORTER

Gossamer

Ojai's Kyle Swan has offered up one of the most self-indulgent and fascinating records to come out of the area in, well, years. The songs on Gossamer are a ramble through the oaks and fields, wandering and surging much like Swan's intensely eclectic playing skills. His band The Honeybrew announced two more albums for release later this year, with contributions from jazz guitarist Robben Ford and saxophonist Karl Hunter of Big Bad Voodoo Daddy, who also appears on Gossamer. As Swan calls it "poetically unorthodox and psychedelically cinematic in nature" Gossamer is perfect for moody, rainy days when even the scuzzy pavement outside your window starts to smell pretty. It also seems as if it actually means something — even gossamer things have some kind of weight to them. That weight extends even to the Josephine Llamas cover illustration of a face, masked in butterfly wings, swallowing an eye. In addition to Swan (who plays everything from guitars to piano and violin and wields a voice full of grit and croak) the record features Rebecca Comerford's soaring opera vocals, Scott Hughes and Steven Cook on upright basses, and Rafael Anita Langa on congas and African bottle-phone, among others. A paean to Swan's skills at weird chord progression and his irrepressible embrace of the abstract, Gossamer is a record that might remind you of other artists on first listen. And yet there is an overwhelming sense that he's trying to carve out a niche for his own voice, clawing out from beneath all the influences as he grows as an artist. Singular voices are an underrated thing in this gilded age of shouting and argumentation. On Gossamer, Kyle Swan proves that he's one of the most interesting artists working in the entire county right now — hands down and bar none.

-David Cotner
(the VC Reporter)


---

http://www.vcreporter.com/cms/story/detail/on_and_off_the_record/12647/


Recorded and Produced by KYLE SWAN at Jackson Studios 2014
Mastered by SEAN INGOLDSBY at "Real Time Studios" 2014

You might say that 'Gossamer' resembles some sort of movie-soundtrack from a psychedelic experience. Robben Ford (award winning guitarist and multi-grammy nominee) commented upon listening, that this album was like hearing Frank Zappa for the first time, and the Principal of Clayton Elementary school in Colorado, said she would play it for the children every day during their lunch hour to calm them. Listen for yourself.

at Itunes and Cdbaby.com Oct 1 2014:


Artists included on this album:

-Kyle Swan (guitars, vocals, piano, violin, bass)
-Rebecca Comerford (opera vocals)
-Karl Hunter (tenor sax and bass clarinet)
-Scott Hughes (upright bass)
-Steven Cook (upright bass)
-Rafael Anita Langa (congas and african bottle-phone)
-Rich Anderson (drums)
-Travis Deagle (cello)
-Brad Buley (percussion)

AlbumArtwork:
Front Cover Illustration: Josephine Llamas
Liner Art: Josephine Llamas, photo by Dawn Rosa
Back Cover Art: Myna Sonou
Album Visual Art Design: Jeff Uzzel

---

---

KYLE SWAN: 'Cracks in the Pavement' - 2007 release

The first fully released record written produced, and recorded by Kyle Swan.
A dynamic acoustic expression of soulful roots performed with fluid feeling and depth on guitar, vocals, piano and ukelele with a live simple feel.

All instruments: Kyle Swan
Album cover art: Brianna Lamar


---

---
"I've had the honor to play and record with Kyle Swan, and I'm constantly amazed at his "ol' soul" voice, unique guitar style, and adventurous song writing. It's moody, mysterious, and beautiful. Musically he often takes a left turn seemingly into the weeds until you realize there has been a beautiful hidden road that you never knew, up to that point, was there."


-KARL HUNTER
(saxophone player for "BIG BAD VOODOO DADDY")



"Kyle Swan is a superb musician who has the ability to captivate listeners both with his solo work, as well as his collaborative work spanning through genres. Kyle to me is a true musician, who embodies the sheer joy of making and playing music. He is a true artist in this sense."
-MATT LINESCH (MIXING/ENGINEER for EDWARD SHARPE AND THE MAGNETIC ZEROS, DAVE MASON and the golden globe winning soundtrack to the film ALL IS LOST)


"Kyle Swan has a soulful sound that captures the heart as well as the imagination. The depth of tone is worthy of the most classical soul singer. He sings with the breadth and scope of someone well past his years. Combine that smooth voice with unique twists on traditional jazz changes, and a new alternative artist is born"
-GREG TOWNLEY (Producer/mixer for films and trailers such as "THE HOBBIT, AVATAR, LIFE OF PI, PROMETHEUS, and ALMOST FAMOUS," including sessions with WYCLEF JEAN, WAYNE SHORTER, JASON MRAZ, LIL' KIM, TAJ MAHAL, JOHN LEE HOOKER, BONO, MOTLEY CRUE and MACY GREY.)

---
---